# 130 Bucharest, July 17th
Pics:
(Thx GotToRollMe, RoxOff)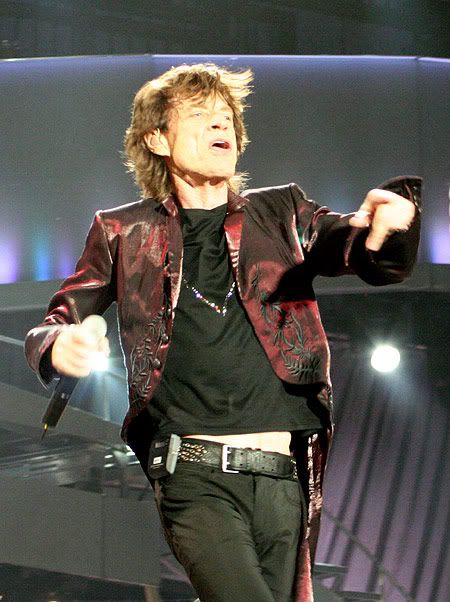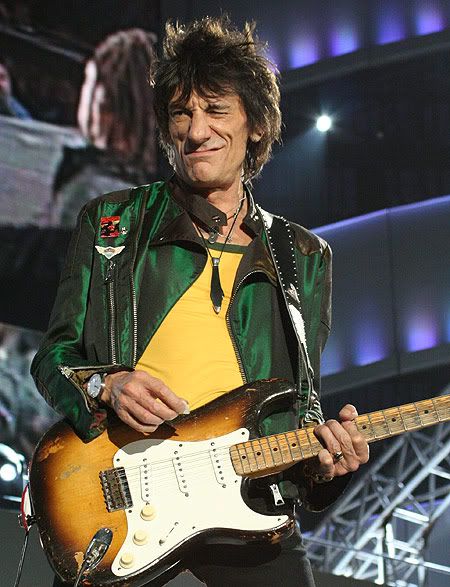 (thx frenchman! pics were slightly optimized)
thx GotToRollMe!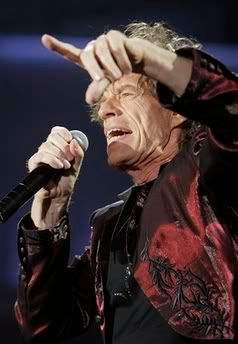 Video: The Stones & their stage are introduced
Paparazzi-Stuff: Ronnie enters the hotel, etc.
Rolling Stones au ajuns in Romania:
The cars come from the airport:
Pressreports:
Mai multe bilete pentru Rolling Stones (europafm.ro)
The Rolling Stones au ajuns la Bucuresti si au cerut eucalipti (hotnews.ro)
# 129 Belgrade, July 14th
Reports:
Rolling Stones Belgrade gig – stunning spectacle (b92.net)
Roling Stonsi doputovali u Bukurešt (pressonline.co.yu)
VELIKI PRASAK (pressonline.co.yu)
# 128 Barcelona, Private arty, July 12th
Here's a report about the venue and the gig in spanish, of cause.
As typicalyspanish.com reports, the Stones are to appear at a private party thrown for executives and clients of of the Deutsche Bank in the Oval room of the NAC (Cataluña National Arts Museum) in the city of Catalunya.
The spanish El Periódico De Catalunia is the source of this report: Los Stones vuelven a BCN para actuar en una fiesta privada
# 127 Budva, July 9th
Review:

Montenegro – And the bang happened (visit-montenegro.com)
Pre-Reports:
Everything is ready for the BIG BANG (visit-montenegro.com)
Montenegro: Rolling Stones in concert (b92.net)
Montenegro gears up for "biggest-ever" Stones gig (ca.today.reuters.com)
# 126 Rome, July 6th
Reports:
Rolling Stones, ritorno kolossal a Roma (ilmessaggero.it)
The Stones, la bigger band vince l'Olimpico (kwmusica.kataweb.it)
The setlist's been made!
Here's 2 videos from bootcover!
She's so cold:
Ruby Tuesday:

The Press:
«Buonasera Roma, ciao Italia» E i Rolling Stones rapirono l'Olimpico (ilmessaggero.it)
# 125 El Ejido, June 30th
Press-Reports:
Leves colas para ver a los Rolling Stones en El Ejido, donde se prevé que asista sólo la mitad del aforo máximo (cerestvnoticias.com)
# 124 Madrid, June 28th
Video-report from the gig (WMV)
Reports:
Los Stones llegan a Madrid con un seguro millonario (cincodias.com)
Los Stones se reconcilian con Madrid (lavanguardia.es)
Los Stones se meten a Madrid en el bolsillo (telecinco.es)
Los Stones reconquistan Madrid (canarias7.es)
# 123 Lisboa, June 25th
Some news reports:
Rolling Stones em Lisboa (sic.sapo.pt – with video from the gig)
Regresso dos Stones tem sabor a fado (blitz.aeiou.pt)
Rolling Stones actuam hoje em Alvalade para «meia casa» (agenciafinanceira.iol.pt)
Em Lisboa, Rolling Stones ouvem suas músicas em português (agencialusa.com.br)
Rolling Stones fazem show em Lisboa, em estádio com meia lotação (ultimosegundo.ig.com.br)
#122 San Sebastian, June 23rd
La noche mágica de los Rolling Stones (diariovasco.com – and more articles: SAtisfacción con la cocina // VIDEO footage from the gig)
Los Rolling Stones conquistan Anoeta en su primer concierto en San Sebastián (heraldo.es)
LosRolling Stones conquistan a cerca de 35.000 espectadores en su primera actuación en San Sebastián (hispanidad.com)
Apuntes visionarios sobre el concierto de esta noche (noticiasdegipuzkoa.com)
Pics from the boys arriving (thx. mboston!!) Here is the gallery! (diariovasco.com)
#121 Barcelona, June 21st
Articles:
Los Rolling Stone hicieron vibrar a miles de españoles (elcomercioperu.com.pe)
Los 'Rolling Stones' llenan Barcelona de rock sucio (diariocordoba.com)
Los Rolling se reconcilian con el público español, pero no llenan el Olímpico (elmundo.es)
Los Rolling Stones ya están en España (including some video footage with Jagger speaking Catalan and the others goofing along)
Los Rolling Stones comienzan mañana en el Estadio Olímpico de
Barcelona una gira de cuatro conciertos por España – Una caravana de 128 vehículos, once autobuses y una plantilla de 208 personas integran el despliegue de medios que acompañará a la mítica banda (estrelladigital.es)
The Rolling Stones inician en Barcelona su gira española de redención tras las cancelaciones del año pasado (actualidad.terra.es)
Los Rolling Stones por fin en España (iberarte.com)
Sexagenarios, ricos y caprichosos (lavanguardia.es)
Los Rolling comienzan su gira por España en Barcelona (antena3.com)
#120 Lyon, June 18th
Monkey Man:
Reports:
Les Stones champions de Gerland // «Ils font partie de la famille» // Cinq décennies avec les Stones (Le Progrès)
Great french TV-Report:
#119 Paris, June 16th
See Sympathy from Paris! (thx fripouille25!)
TV-report (tf1.lci.fr) and another from BFM TV
Les Rolling Stones tels qu'en eux-mêmes au Stade de France (tdg.ch)
Les Rolling Stones, toujours verts, enflamment le Stade de France (nouvelobs.com)
Le Stade de France accueille les Rolling Stones (toulouse.ladepeche.com)
Le Stade de France accueille les Rolling Stones (24heures.ch)
Le guitariste des Rolling Stones Ron Wood manie aussi le pinceau (20minutes.fr)
The Rolling Stones are performing in Paris (france24.com – there's videoreport about the stage and Ronnies exhibition)
La machine Rolling Stones, un business qui donne satisfaction (LeMonde.fr)
#118 Frankfurt, June 13th
Some german pre-reports:
Rolling Stones: Um kurz nach zehn gab's Satisfaction (net-tribune.de)
Rolling Stones starten in Frankfurt (ad-hoc-news.de)
Rolling Stones und "A Bigger Bang" (hr-online.de)
"Uns hält nur der Tod auf" ('Only death can stop us' – interview, stuttgarter-nachrichten.de)
"Ich bin nicht die coolste Sau im Rock" (welt.de)
#117 Isle of Wight Festival, June 10th
PICS: (thx. Pierre, RocksOff)

The Stones were joined by singer Amy Winehouse and Paolo Nuttini
Pressreports:
Rolling Stones rock Isle of Wight festival (timesonline.co.uk)
Rockers perform at their first festival in over 30 years (utvlive.com)

Rolling Stones push boat out and charter £27,000 ferry (dailymail.co.uk)
Rolling Stones Make Euphoric Festival Comeback (gigwise.com)
Stones end festival with a big bang (banburyguardian.co.uk)
Stones roll on to Isle of Wight (channel4.com)
Rolling Stones take centre stage at Isle of Wight festival (inthenews.co.uk)
Nice report – recommended (sundaymirror.co.uk):
THE INN CROWD – Stones spend the Wight together at cheap hotel Party venue costs just £46 a night AT THE ISLE OF WIGHT FESTIVAL 2007 One little citation: "We're digging what we are doing," Keith told me backstage in Virgin Radio's VIP room. "After 40 years, there are absolutely no murmurings of mutiny and I think we will continue next year as well."
Rolling Stones to play Isle Of Wight tonight (nme.com)
Fans head for Isle of Wight show (bbc.co.uk) More than 30,000 fans are expected at the Isle of Wight music festival this weekend, with veteran rockers the Rolling Stones topping the bill.
# 116 Nijmegen, Netherlands, June 8th
YouTube4You from Nijmegen (thanks to Exile1979!)
1. Sweet Virginia:
2. IORR:
Grootste rockers als deugnieten op het podium (deGelderlander.nl) Fans withstand weather-conditions: Hoosbui krijgt fan niet klein (deGelderlander.nl)
The Stones signed a Streetsign (here's the corresponding article – deGelderlander.nl):

# 115 Werchter, Belgium,
June 5th
=>  Check the SETLIST-page! – Lots of new songs played!!! As this is the *tourstart*, I'll cite the setliste here, bute all other setlists will be placed on my extra page.
Start Me Up
Shattered
Rough Justice
Rocks Off

Heartbreaker

Some Girls
Waiting on A Friend
Can't You Hear Me Knockin'
Tumbling Dice

I'll Go Crazy

(James
Brown)
I Wanna Hold You
Slipping Away
It's Only Rock'n Roll

It's All Over Now

Satisfaction
Honky Tonk Women
Paint It Black
Jumping Jack Flash
Sympathy for the Devil
The vids! (Thx to: mboston, )
The Press:
3 Minutes TV-Report (belgian)
Rolling Stones eten wei van Werchter op (standaard.be)
Les Stones à Werchter : des chiffres qui roulent (dhnet.be)
Stones start Europe tour with bang (midsussextimes.co.uk)
Stones kick-off a Bigger Bang (inthenews.co.uk)
Rolling Stones' European tour kicks off to 'triumphant' start (earthtimes.org)
Stones go for an even Bigger Bang (therecord.com)
Stones gig sparks 50km tailback (bbc.co.uk)
The Pics: (thx arizojp, mbostons, coowouters)

– this and a lot ,ore great pics at pain.it.black'photo's ! (thanks yawdi m)
International Herald Tribune: Rolling Stones kick off European leg of "A Bigger Bang" tour on Tuesday
Keith: Stones Not Touring For The Money (earvolution.com) || Stones guitarist 'will be gigging in his wheelchair' (inthenews.co.uk)
Rehearsals! (thanks, Dominique!)
Back of My Hand
All Down The Line
Can't You Hear Me Knocking
Respectable
Waiting On A Friend
It's All Over Now(2x)
You Can't Always Get What You Want
It's Only Rock 'n Roll
Get Off Of My Cloud
Honky Tonk Women
I Wanna Hold You
# Rehearsals Vilvoorde near Brussels, Belgium #
Recommended: Report with more interviews and takes from the Press-Gig provided by Kamera.com – thanks for the info, Werner! A report from belgian TV in good quality (!) you have to scroll near the last fifth or so, at minute 24:50!
(thanks for these great pics, gypsie @ RocksOff! – I took the freedom to scale them down a little bit…)

More cool pics from GettyImages!
Another report from belgian TV:
### Our friends at stonesforum.nl have a complete list of all the 73 songs rehearsed! Thanks a lot mates! ###
Friday, June 1st, 2007
The press was invited and the Stones did some abbreviated numbers – footage for newsreports, it seems. They did (thanks IORR for this!)
Rough Justice
I'll Go Crazy
Monkey Man
Rough Justice
Tumbling Dice
I'll Go Crazy
Rocks Off
There's some report on belgian vrtniews.net – only in flamish, sorry – but there you can see the outcome of the little PC the Stones did yesterday. Most likely you'll find ths material soon in newsreports on several other sources – I'll keep you posted!

Ronnie just celebrated his 60th birthday and met some fans.
Happy birthday, Ronnie!!
Thursday, May31st, 2007
Yesterday they played something which looks like a setlist, although
it's only 17 songs, but well, here you go: (thanks, Dominique & IORR)
Start Me Up
Shattered
Rough Justice
Rocks Off
Heartbreaker
Sweet Virgina
Can't You Hear Me Knocking
Tumbling Dice
Thank You ???
I Wanna Hold You
Slipping Away
Under My Thumb
It's All Over Now 2x
It's Only Rock'n Roll
Honky Tonk Women
Jumping Jack Flash
Brown Sugar
Satisfaction
Wednesday, May 30th, 2007
(Thanks to bjornulf and iorr.org!)
Heartbreaker
Out Of Control
When The Whip Comes Down
Love Is Strong 2x
Waiting On A friend
Far Away Eyes
Can't You Hear Me Knocking
Slipping Away
All About You
Wanna Hold You
Thief In The Night
… some more pics from bootcover – thanks, man!
Tuesday, May 29th, 2007 (Thanks to pide and bootcover)
Jumping Jack Flash
It's Only Rock'n Roll
Live With Me
Oh No Not You Again
She's So Cold
Bitch
Memory Motel
Sway
Rocks Off
Tumbling Dice
Thank You (Sly and the Family Stone)
Wild Horses 2x
Worried about You 2x
Can't Be Seen 2x
You Don't Have To Mean It 2x
Infamy 4x
Monday,
May 28th, 2007 (Thanks to Belgium Marco, Beethoven)
Some Girls
Can't You Hear Me Knocking 2x
Can't Always Get Want You Want
Rocks Off 2x
She's So Cold
Happy 2x
Miss You 2x
Wanna Hold You
Tumbling Dice 2x
I'm Free
Shine A Light
Memory Motel
It's All Over Now
Dead Flowers
Get Off Of My Cloud
Beast Of Burden
Sunday, May 27th, 2007
She's So Cold
Bitch
Shattered
Undercover
Oh
No, Not You Again !
Heartbreaker
Under My Thumb
Wanna Hold You
Jam
Infamy
You Got Me Rockin
You Got The Silver
Let's Spend the Night Together
Respectable
All Down the Line
Just My Imagination
Paint It Black
Let It Bleed
Monkey Man
Loving Cup
Love Is Strong
Pretty Beat Up (no vocals),
The Worst
Slipping Away
Thief in the Night
Happy
Saturday, May 26th, 2007
Shattered
Undercover
ONNYA (2x)
Heartbreaker
Under My Thumb
new song/jam
Some Pics
# 114 Vancouver, Nov. 25th
Stones tour rolls into Vancouver (cbc.ca)
Province readers share their Stones (canada.com)
As years go by . . . (canada.com)
# 113 Los Angeles, Nov. 22nd
Rock of ages still rolling for Stones (latimes.com)
Stones close US-tour in L.A. (latimes.com)
Despite age and health issues, Mick, Keith and Co. turn in a vigorous performance at Dodger Stadium.
Rolling Stones A Bigger Bang Wraps Up In USA (undercover.com.au)
Putting one over on the Rolling Stones (canada.com)
Still Rocking His Own Look (nytimes.com)
Atlantic City Boardwalk Hall presented by The Borgata (relix.com)
#112 Atlantic City, Nov. 17th
Creaky Stones still can rock Boardwalk Hall (courierpostonline.com)
Rolling Stones start 'em up at Boardwalk Hall in A.C. (pressofatlanticcity.com)
Still your fathers Rolling Stones (pressofatlanticcity.com)
Rolling Stones excite at Boardwalk Hall (courierpostonline.com)
Some pics (thanks for sharing: Boosabops! (slightly optimized))
#111 Boise, Nov. 14th
Jagger and Co. satisfy fans on Tuesday during unforgettable night (idahostatesman.com)
Despite signs of age, Rolling Stones are still the greatest (idahostatesman.com)
Despite Losing His Father, Mick Jagger Continues To Tour (cinemablend.com)
Mick Jagger's father passes away (ktvb.com)
Jagger Rocked on After Dad's Death (sfgate.com)
Check this video from KTVB:
2 min. of just JJF – no comment! 😉