#89 Glasgow, Scotland, August 25th
NO SHELTER NEEDED (dailyrecord.co.uk)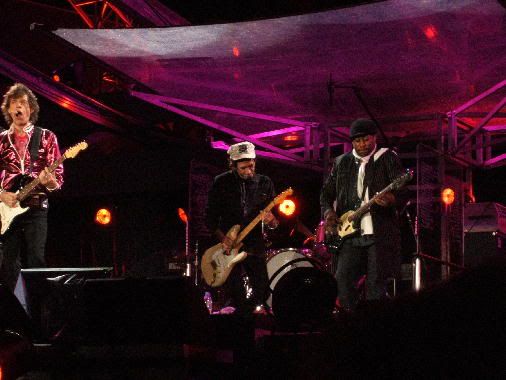 #88 London, UK, August 22th
Reviews:
ROLLING BACK THE YEARS (sundaymirror.co.uk)
The Rolling Stones – Twickenham, London (virtualfestivals.com)
Review (independent.co.uk)
Here's a good gallery, thanks 'infactitsagas' !!! There's even a litte video! (The echo is just normal, when the boys play ca. 70m away from the big stage…)
#87 London, UK, August 20th
=> setlists
– They played Midnight Rambler and were on fire! Also: SWAY and Ruby Tuesday!
Mick joked: "Wembley will be finished in time for the Arctic Monkeys' farewell tour." He also made light of Keith Richards's recent tree fall and brain op. He said: "I'd like to introduce Keith Headbanger."
Reviews:
Jagger plays it cool as Richards rocks (telegraph.co.uk)
The Rolling Stones (timesonline.co.uk)
Rolling Stones, Twickenham Stadium, London – Mick gets lippy, the home crowd goes wild (independent.co.uk)
Rolling Stones – London Twickenham Stadium – 4 of 5 stars (guardian.co.uk)
Press reviews: Rolling Stones (bbc.co.uk)
The Rolling Stones rock London (lse.co.uk)
Jagger, rocking on for the wrinkly generation (dailymail.co.uk)
There's plenty of satisfaction as the Stones' are back with a bigger bang (dailymail.co.uk)
Rolling Stones rock British fans (bbc.co.uk)
IT'S JUST LIKE 63 NOTHING HAS CHANGED (sundaymail.co.uk) => Recommended Read!
Stones fans get set for UK shows (bbc.co.uk)
Sir Mick Jagger's Rolling Stones To Perform In U.K. (allheadlinenews.com)
Stones to paint Twickenham black (monstersandcritics.com)
Some pics:
#xx El Ejido, SP, August 16th
#xx Valladolid, SP, August 14th
The press:
The Rolling Stones have cancelled a concert in Spain after singer Mick Jagger was struck down by laryngitis.
The band were due to play a concert in Valladolid on Monday evening as part of their A Bigger Bang world tour. But doctors ordered Jagger to rest his voice after developing laryngitis over the weekend. Jagger said: "I always love playing in Spain, but unfortunately I have no other choice and I apologise to everyone who bought tickets." He added: "I am very sorry to be cancelling this show."
The Rolling Stones' A Bigger Bang tour will continue as scheduled at London's Twickenham Stadium on Sunday, followed by shows in Glasgow, Sheffield and Cardiff.
«El escenario fue idea de Jagger hace un par de años» // Valladolid recibe hoy a los Stones en su primer concierto en España desde el 2003 // El
José Zorrilla recibe los últimos retoques para acoger a los Stones => (nortecastilla.es)
#86 Porto, PT, August 12th
The press:
Stones e rock n'roll são eternos // O maior circo de rock do planeta? // Tudo pelos Stones // Jagger veio conhecer o Porto => (jn.sapo.pt)
Rolling Stones no Porto: Velhos são os outros! (diariodigital.sapo.pt)
Vinte temas animaram 47.000 espectadores no Dragão (rtp.pt)
"O maior palco montado em Portugal" para receber os Rolling Stones (rtp.pt)
#85 Nice, IT, August 8th
The press:
Tout le monde est Rolling Stones à Nice (nice-premiere.com)
Les Rolling Stones au dernier Stade ? (liberation.fr)
Diables de Stones (liberation.fr)
Rolling Stones plein la vue (letemps.ch)
Les Rolling Stones à Nice: les classiques payent toujours (tageblatt.lu)
#84 Zurich, CH, August 5th
Reviews:
Urknall in Dübendorf (20min.ch)
Die Rock-Show, die alle Grenzen sprengt (swissifo.org)
Stones-Sound über Zürich (swissifo.org)
TV-footage: TSR (french)
La satisfaction des derniers empereurs (jpg, 24heures)
Zurich déroule le tapis rouge pour les Rolling Stones (jpg, Tribune de Gèneve)
Die Rolling Stones begeistern 65000 Fans (jpg, Tagesanzeiger, german)
Some pics:
#83 Stuttgart, DE, August 3rd
Reviews:
Mick Jagger bringt Fans außer Atem (stuttgarter-zeitung.de)
Die Stones lassen's krachen (stuttgarter-zeitung.de)
Reader-Gallery from Stuttgart with LOTS of pics…
#82 Amsterdam, NL, July 31st
Some pics: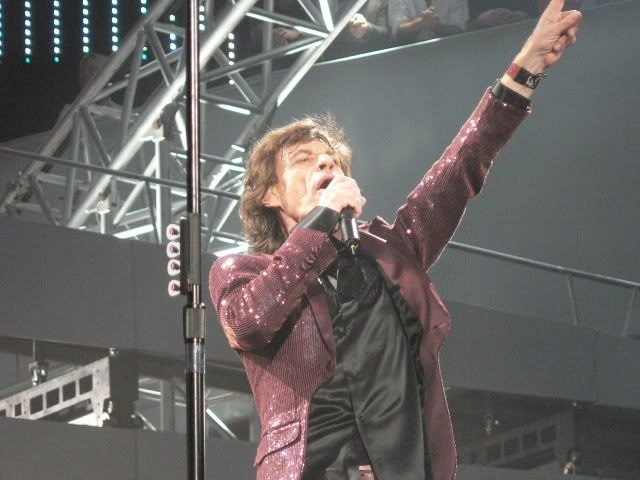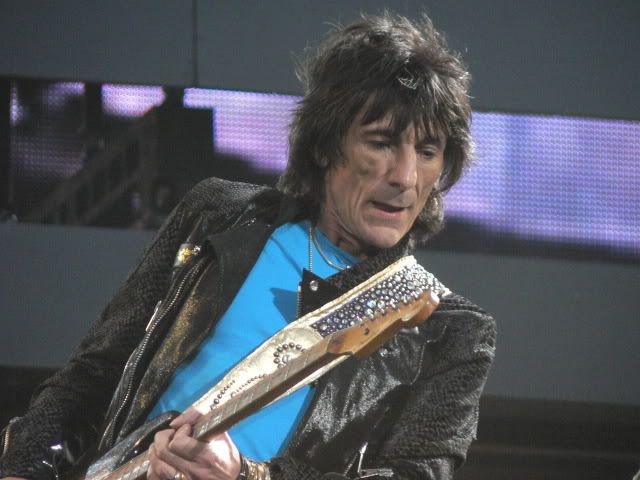 #81 paris, france, july 28th
Review as a pic of the page from La Libre Belgique
Le Figaro: Les Stones roulent encore et toujours
#80 Cologne, Germany, July 23rd
The Press
Stones brennen ein Rock'n'Roll-Feuerwerk ab (koeln.de)
Köln total stoned (express.de) -> Gallery with 11 pics
Schwebender Springteufel (koelnische-rundschau.de)
Es ist nur eine Show – aber was für eine! (ksta.de) Also at ksta.de: Rolling Stones sorgen für eine "Jeile Zick" as well as: Stones-Nostalgie für lau auf der Wiese
Rolling Stones sehnsüchtig in Köln erwartet (koeln.de)
Stones rollen mit 126 Lkws an (ksta.de)
#79 Berlin, Germany, July 21st
The Press:
Unverschämt teuer, aber ungeheuer gut (wams.de)
Mit voller Wucht (tagesspiegel.de)
Das Olympiastadion wurde zum Olymp (bz-berlin.de): Es ist zehn vor neun, als das Stadion zum Olymp wird: Nach drei Jahren Pause sind die Götter des Rock'n'Roll zurück in Berlin! [more]
Stones im Olympiastadion (berlinonline.de)
Charlie Watts auf Sightseeing-Tour (bz-berlin.de)
Die besten Rock-Opas der Welt … (berlinonline.de)
Im Steinmuseum (berlinonline.de)
Du kannst nicht immer kriegen, was du willst (taz.de)
Die Rolling Stones in Berlin – Keyboarder Chuck Leavell mischt sich unters Volk! (tikonline.de) Click here to see some pics of Chuck in Berlin
Interview: Es ist mir eine Ehre, mit solchen Jungs zu spielen! (bz-berlin.de)
Die beste Band der Welt – Die Rolling Stones rocken im Olympiastadion (morgenpost.de)
Stones checking in the 'Ritz', Berlin, (bz-berlin.de)
Rolling Stones checken im Hotel Ritz-Carlton ein (welt.de)
#78 Hannover, Germany, July 19th
For the setlist, check
the setlists-page
The Press
Der große Bang knallte in Hannover (haz.de)
Sie sind immer noch das Nonplusultra (abendblatt.de)
Rolling Stones rocken in Hannover vor 35 000 Fans (fraenkischer-tag.de)
Der süße Traum von der ewigen Jugend – Sie können eben länger: Die Rolling Stones spielten gestern Abend vor 35 000 Zuschauern in Hannover (newsclick.de)
Bühne frei für die Edel-Steine (haz.de)
Some pics: (thx mboston, arizojp !)
Galleries: NDR2
– cam1 (22 pics), NDR2
– cam2 (23 pics), Hannoversche
Allgemeine (35 pics)
# 77 Munich, Germany, July 16th
The Press:
Und seine Arme erst (fr-aktuell.de)
Die unzertrümmerbaren Steine (faz.net) – if you know German: recommended!
Rolling Stones starten Deutschland-Tour in München (zeit.de)
Geniale Dilettanten (welt.de)
Rolling Stones: Umjubelter Auftakt der Deutschland-Tour in München (musikmarkt.de)
TV-Footage of ZDF: Tourauftakt der Rolling Stones in München
Report of the Süddeutsche Zeitung
#76 Vienna, Austria, July 14th
The Press:
Hängende Backen, dreckige Riffs (derstandard.at)
Rolling Stones im Stadion – Trotz Jukebox-Hit-Inflation: Die größte Rockband begeisterte subtil. (diepresse.com)
Stones: Fulminanter Auftritt alter Herren (nachrichten.at) – Bei lebenden Legenden besteht immer auch die Gefahr, dass sie sich selbst demontieren. Bei den Rolling Stones braucht man sich solche Sorgen nicht zu machen…
Rock-Mick ließ das Stadion beben (kurier.at)
Fulminantes Stones-Konzert im Prater (wien.orf.at)
The Rolling Stones begeisterten Wien-Publikum (tirol.com)
The Setlist
TV footage from ORF, Austria about the Stones arrival in Vienna
# 75 Milano, Italy, July 11th
Here are 2 bigger pics of Mick and Keith from the Milano PC (thx gypsy @ rocks off)
Gallery and article of Corriere Della Sera (it): Con gli Stones anche Del Piero e Materazzi
More pics, concert and stage here from rollingstonesitalia.com
Video:
some scenes from the gig, Streets of Love and others
Video: Con Le Mie Lacrime
The newspapers:
The night I fell in love with Mick (dailymail.co.uk)
STONES FINALLY ROCK MILAN (contactmusic.com)
Ageing and ailing, yet Rolling Stones rock Milan (guardian.co.uk)
World Cup winners rock with Stones (virgin.net)
Rocker Richards returns to stage (bbc.co.uk)
Stones kick off delayed tour (itv.com)
Keef rolls on (news.com.au)
Setlist:
Jumpin Jack Flash
Its Only Rock n Roll
Oh No Not You Again
Let's Spend the Night Together
Tumbling Dice

Streets Of Love (live debut)

Con Le Mie Lacrime (live debut)

Midnight Rambler
Night Time (Is The Right Time)
Before They Make Me Run (Keith)
Slipping Away (Keith)
Miss You
Rough Justice (b-stage)

Under My Thumb

(b-stage,
tour debut)
Honky Tonk Women (b-stage)
Sympathy For The Devil (back to main stage)
Start Me Up
Brown Sugar
YCAGWYW
Satisfaction
Video of the Milano PC in English!
Dress-rehearsal setlist: (thanks to our friends at rollingstonesitalia.com)
Jumping Jack Flash
IORR
Monkey Man
Oh No Not You Again
Con Le Mie Lacrime (As Tears Go Bye in Italian)
Streets Of Love
Tumbling Dice
Midnight Rambler
Night Time
Slipping Away
Before They Make Me Run
Sympathy For The Devil
Miss You
Rought Justice
Under My Thumb
Honky Tonk Women
Start Me Up
Brown Sugar
YCAGWYW
Satisfaction
Songs rehearsed so far: (thx. rollingstonesitalia.com
& Rocks Off! )
Ain't Too Proud To Beg
Love Is Strong
It's Only Rock'n Roll
Heartbreaker
Beast Of Burden
Oh No Not You Again
Bitch
Tumbling Dice
Con Le Mie Lacrime (As Tears Go By)
Streets of Love
Midnight Rambler
Can't You Hear Me Knocking
Out of Control
Monkey Man
Before They Make Me Run
Rough Justice
Rain Fell Down
She's a Rainbow
Let It Bleed
She's So Cold
Harlem Shuffle
All Down The Line
Jumping Jack Flash
iorr
night time is the right time
slipping away
sympathy for the devil
miss you
under my thumb
honky tonk women
start me up
brown sugar
ycagwyw
satisfaction
We now have italian TV-coverage of the Stones in Milano and their little 'pressconference'
…
See the stage coming up; thanks to our friends at rollingstonesitalia.com
In the press:
=> I ROLLING STONES ALL'ALCATRAZ DI MILANO PROVANO PER IL CONCERTO DI MARTEDÌ
– Mick Jagger come nell'82: «In bocca al lupo azzurri» (lastampa.it)
=> Alcatraz assediata per gli Stones, e Jagger pronostica Italia (ilgiorno.quotidiano.net)