>>> Click here for the setlists! <<< (extra window)
Looking for torrents of the ABB-Tour?
Go and Find many at dime and rollingstones.kicks-ass.org
#45 Boston, Jan. 15

The boys played a 21 track setlist this time, with lot's of surprises... Memory Motel, for instance ... check the SETLIST!
A pic:
#44 Boston, Jan. 13

Review:

Stones tour reaches overdrive (telegram.com - thanks Dan!)
Pre-Show:

Stones give Boston a refresher Bang | Art of Stone: Ronnie Wood gets lot of satisfaction creating artwork (bostonherald.com)
#43 Montreal, Jan. 10

Reviews:
Can I get a witness? Backstage with the Stones (Montreal Gazette, canada.com)
Stones fans have a gas, gas, gas (canada.com) | Sir Mick holds court (canada.com)


A pic from the gig:
Rolling Stones resume "trial&error" tour (therockradio.com)
The Rolling Stones are in town (canada.com)
The band is in pre-show private and keeping out of sight in the hours leading up to their Bell Centre concert tonight [...]


Ronnie and Keith arrive at their hotel in Montreal:


(thanks to Mrs Bluescat and R.Skinner, La Presse!)

Preshow:

Still got it?: The case for the Rolling Stones (canada.com)
#42 Memphis, Dec. 3

Review:
STONES ON TOUR: The Bang's Still There (memphisflyer.com)
Rolling Stones deliver a bigger, louder, sexier bang (commercialappeal.com - subscription)

Pre-show:
Stones throw down // Beifuss: Still Rolling (commercialappeal.com - subscription)
A pic from the gig: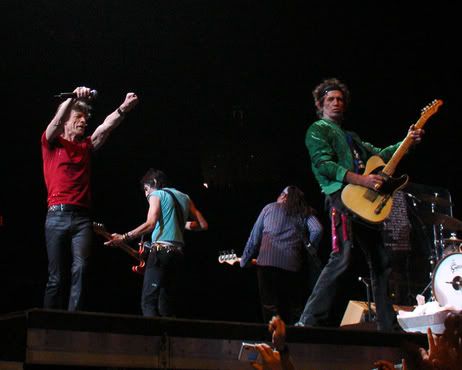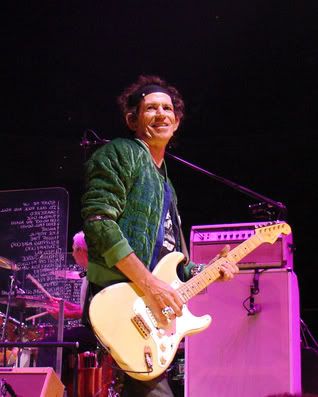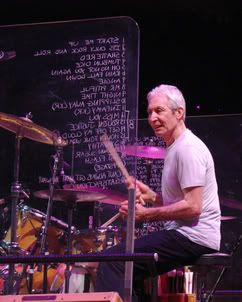 #41 Houston, Dec. 1

Pre-Show:
Rolling Stones' live lineup is gathering moss (chron.com)

Reviews:
Concert Review: Stones fans get what they need (statesman.com)
Stones on autopilot for Toyota Center show (chron.com)
Review: Stones have time, fans in grip (mysanantonio.com)
Stones roll on (dailytexasonline)
It's only rock 'n' roll, but they love it (chron.com)
Classic rock 'n' roll chiseled in Stones (chron.com)
#40, Dallas, Nov. 29

Pre-show:


As Stones, others roll in, it's sympathy for the ticketless (dallasnews.com)
'CLOUD' NINE (dfw.com)
#39, Phoenix, Nov. 27

Stones roll on with classics, new songs in Glendale (azcentral.com - view the slideshow!)
The Rolling Stones find fountain of youth (eastvalleytribune.com)
Pic from the gig (thanx 2 rollingstonesgallery.com!):
#38, Denver, Nov.24

Pre-Show:
Just a Stone's throw away (rockymountainnews.com)

Review:
Classic Stones keep on rolling - Band proves better with age, worth every penny (rockymountainnews.com)
Pich from the gig:
#37, Salt Lake City, Nov.22

Pre-show:
The Salt Lake Tribune:
interviews with Mick (Up close and personal with Mick Jagger)
and Keith (Exclusive interview with Keith Richards) !
Rolling Stones: Unforgettable riffs // Culture Vulture: For $350 a seat, concert better have more than rock 'n' roll (sltribune.com)
Reviews:
The Rolling Stones start S.L. up (deseretnews.com)
The Stones? Yawn (boulderdirt.com)
Rolling Stones can still deliver 'Satisfaction' (slrtrib.com)
A pic from the gig (sltrib.com):
#36, Fresno, Nov.20

Crazy about the Stones (denverpost.com)


#35, Las Vegas, Nov.18

Review:
Stones deliver thrilling LV concert - Foursome displays musicianship, athleticism worthy of much younger performers (reviewjournal.com)

Pre-Show:
Not everything stays in Vegas (upi.com) - A story about Keith and a 'lucky belt' ...


Pics from the Gig:
1 Example from the gallery by RockyMountainNews.com:


and here some wonderful pics, innit? THANX to Stoneslib!!!
#34, San Francisco II


Reviews:
Rolling Stones Rock The City of San Francisco with A Big Bang Beat (ruggedelegantliving.com)
Rolling Stones Juggle It for San Francisco (undercover.com.au)
Not the Last Time (dailycal.org)
Old Folks Rock (eastbayexpress.com)
Brown: Too much history lies in Stones' vault (rockymountainnews.com)

Where have all the hippies gone? Rocking 'Stones' Rattle Neighbors (abclocal.go.com)
Are The Rolling Stones 'Too Old' To Hear Their Own Music? (entertainmentwise.com)
Chatting with the Rolling Stones (sltrib.com)
Rolling Stones make a mess at bark in the park (oregonlive.com)
Stones wake up the Gentle People (news.bbc.co.uk)

#33, San Francisco I

Reviews:

Rolling Stones Attract Baby Boomers To SBC (abclocal.go.com) - check out the video-footage!
Music from Stones' show heard across city - 'Bigger Bang' tour proves true to its name as noise complaints roll into City Hall (sfgate.com)
Stones Deliver With A Bang (sfgate.com)
Stones serve up plenty of 'Satisfaction' at SBC concert (merkurynews.com)
The Rolling Stones, SBC Park, San Francisco, November 13, 2005 (undercover.com.au)
How the Rolling Stones Made an Instant Fan Out of Me (horus.vcsa.uci.edu)
Devotion to Stones pays off (contracostatimes.com)
Ode to the Stones - We are glad you're who we thought you were (sfgate.com)


Pre-show:
Time is on the Stones' side // Blues 101 for Stones fans // (contracostatimes.com)


A Pic from the Gig:
#32, San Diego

Reviews:
Stones stage classic show // After 40+ years onstage, the Rolling Stones can still deliver 'A Bigger Bang'// (signonsandiego.com)


Pic from the gig:
#30, 31: Hollywood I

The Rolling Stones, Now! - Mick, Keef, and the gang got live if you want it … and you do (lacitybeat.com)
'Brown Sugar' overdose - The once-daring Rolling Stones lack the confidence to play much of their new album live. // You don't go for the new at Stones concert // Wild horses couldn't drag them off stage // (calendarlive.com)

Stones perform historic show (reuters.com)
Stones' roll into Hollywood Bowl (abcnews.go.com, reuters.com)
Stones still strut stuff to sellout crowds (dailybulletin.com)
Pics: (here's a gallery with 12 pics!)